Revolutionary War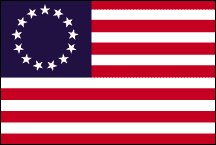 John Range 1743-1827
Was commissioned a Lieutenant of the Fifth Company, Fourth Battalion of York Co. PA. For his services, the State of PA gave him a land warrant that became the boro of Tionesta, Forest County, PA. It consisted of 258 acres. There is a monument in his honor on the lawn of the county courthouse placed there by the Daughters of the American Revolution. Died May 4, 1827 in Tionesta, Forest County, PA and is buried at Riverside Cemetery.
( See War Memorial Located in Tionesta, PA)
Neal McKay 1749-1835
Enlisted from Hanover, Lancaster County in the Pennsylvania Militia. He served in the Battle of Brandywine. He retired from the army disabled. He died at Waterford, Erie County, PA where he is listed on the Revolutionary War Memorial. Died January 11, 1835 at Waterford, Erie County, PA and is buried at Waterford Cemetery
(See War Memorial Located in Waterford, PA)
Edward Holmes 1762-1837
Enlisted at Ashford, CT, served as a private in Captain Hill's Company in Colonel McClellan's Connecticut regiment. Served again in Captain Daniel Allen's Company in Colonel Wyllys Connecticut regiment. Moved to Monson, MA and enlisted again and served in Captain Noah Hall's company in Colonel Smith's Massachusetts regiment Served again in Pomfret, CT, in Captain Mix's company as a boatman. He had other tours of service. Total service of about three and a half years. Was at Fort Griswold when Colonel Ledyard was massacred. Was living at Georgetown, NY when his pension was approved
October 8, 1832
Luke Chapin 1740-1776
He enlisted on the 20th of March 1776 while living in Monson, Hampden Co., MA and served as first Sgt in Captain Lyman's Co., Col. Porter's Massachusetts Regiment. Died from smallpox at Ticonderoga about the 3rd of Oct. 1776. It is not known where he is buried. ,
David Morton 1747– 1826
David Morton enlisted at Plymouth, MA in 1775. He was a private in Capt. Jessie Harlow's Co. which marched April 20, 1775, in response to the alarm of April 19, 1775 to Marshfield. Served several terms of enlistment during the war through February 1780. Captured in small engagement near Philadelphia and held prisoner nearly seven months before he was exchanged and returned to his regiment. Engaged in the battle of the taking of Burgoyne. Died September 8, 1826 at Groton, Tompkins Co. NY.
Christopher Whitford 1753 - 1811
Christopher Whitford served in the Revolutionary War in the state of RI. Enlisting as a Private in Captain Carr's Company and Colonel Archibald Crary's Regiment. He served 14 months and 14 days. His widow applied for a pension 16 July 1837 while living at Columbus in Chenango county NY.
Thaddeus Fairfield 1747 – 1835
Thaddeus Fairfield of Belchertown, MA served in Capt. John Cowl's Company of Minute-men, Col. Woodbridge's Regiment, which marched April 20, 1775 in response to the alarm of April 19, 1775. He also served in Capt. Oliver Lyman's Company of Col. Dyke's Regiment and Capt. Elijah Dwight's Company of Col. Elizha Porter's (Hampshire Co.) Regiment. He was discharged Aug. 19, 1777. He died July 17, 1835 in Belchertown, MA and is buried at the Rural Cemetery.
William Howard 1746/47 – 1813
Captain William Howard served in the Revolutionary War for the state of Rhode Island. He was under the command of Capt. Stephen Sheldon and Col. William Barton. He died June 22, 1813 in Columbus, Chenango County, NY.
Buried at Howard Cemetery, Sherburne Twp. Chenango Co. NY
Henry Myers 1761 - 1847
Commissioned 1st Lieutenant 14th Sept 1778. Mustered 3 Nov 1778
Was First Lieut. in the Revolutionary War from Maryland serving under Capt. Henry Stephenson's Company, Johnsons Brigade, 1776, also in the Lingamore Battalion, 1777 Maryland line. Died 24 Jun 1847 at Myers Mills Clarion Co., PA and is buried near Jefferson Furnace, Clarion Co., PA.
Grave has not been found.
Samuel Blair 1738 - 1820
He served as a Captain in Pennsylvania's 1st Regt., Continental Line from November 1775 to November 1776. He died Aug. 7, 1820 in Woodcock Twp. Crawford Co., PA and is buried in the cemetery on land he settled in 1794. It bears the name Mt. Blair Cemetery.