Born: Aug 9, 1875
Loc: Bloomfield Twp,
Crawford Co., PA
Died: July 14, 1954
Loc: Tacoma, WA
Bur: Memorial Park Cemetery,
Sea Tac, King Co. WA

Occupation: Mail carrier.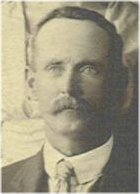 Father: Samuel Chapin Brown
Mother: Ida Laura Morton
This Saturday, August 31st marks the end of a successful career for Fred Brown as a rural carrier on Route 1 out of Wilton in which capacity he has served for nearly 30 years, having passed his 65th birthday on August 9th of this year the Government
will retire him.
Mail Carrier Brown started to carry mail out of Wilton on May 23, 1911 and will have carried 29 years, 3 months and 7 days. When he completes his route on Saturday and will have traveled approximately 295,528 miles. He used horses the first nine years, buying his first car in 1920, a model T Ford and has used a car whenever the roads were passable since that time. During the early days his good wife acted as substitute for him during the busy seasons on the farms, carried the mail while her husband would go to help the patrons on the route with their work. During the past several years, his son, Lyscum has been his regular substitute until probably the route over until a successor is named. There is talk of consolidating it with Route 3 now served by Geo. C. Gray, who will carry the two routes, the same as 2 and 3 are now being served.
During these many years of service, Mr. Brown has made a reputation for being able to get around his route in all kinds of weather and roads, and like so many of our other carriers in North Dakota, took many chances in order that his patrons would receive their mail.
Mr, Brown is a native of Pennsylvania, being born at Union City on August 9, 1875. As a young man he drifted west, going to Sac City, Iowa where he worked for two years and at which place he met his wife, Miss. Phoebe Daniels, and on Christmas eve in 1896 was married. He informed us that she was his Christmas present for that year and the best one he ever received, for after these 44 years he still has her and one he can't get along without. Mrs. Brown is due a great deal of credit for the service rendered on Route 1 out of Wilton these past 30 years and her help and cooperation in the Brown home. It is a coincident that they are they are the exactly the same age both celebrating their 65th birthday on August 9. Mr. and Mrs. Brown possess a lot of humor and get a great deal of enjoyment out of living and are blessed with good health so that they may continue to travel around and make the best of their retirement. They are already planning a trip for the near future.
The Brown's came to Wilton from Iowa in the spring of 1903, settling on a homestead 12 miles northeast of town now owned by Mike Hurby. Mr. and Mrs. Brown farmed until 1912 when they moved into Wilton where they have lived since. They are the parents of six children, namely, Mrs. Wm. (Ida) Fisher, Wilton; Mrs. Lawrence (Iva) Ousley, Coleharbor; Lyscum Brown, Wilton; Mrs. Peter (Irene) Michel, Puyallup, Wash; Mrs. Charley (Illa) Manley and Lloyd Brown of Tacoma, Wash. and 18 grandchildren.
Mr. Brown served under 9 different postmasters during the time of his service. He has always been a member of the Mail Carriers Association.
Source: The Wilton news, Wilton, ND – Friday, Aug 30, 1940
Obituary:
Last Rites Held For Fred Brown
Funeral services were held last Saturday in the Chapel of the Orting Funeral Home for Fred E. Brown, 78, of Orting who died Wednesday in a Tacoma hospital. Burial was in Washington Memorial Park, Seattle. Born in Union City, PA he began his career as a mail carrier in Wilton, ND in 1911, retiring in 1940 after 29 years in service. On his retirement he moved to Tacoma and came to Orting five years ago. Surviving are his wife, Phoebe of Orting, four daughters; Mrs. Ida Fischer of Orting, Mrs. Iva Ousley of Carbanado, Mrs. Irene Michel of Puyallup and Mrs. Ila Manley of Tacoma. Two sons; Lyscomb of Tacoma and Lloyd of Tacoma, a sister; Mrs. Dolly Chapin of Union City, PA, 23 grandchildren and 19 great grandchildren.