Born: Feb 3, 1905
Loc: Union City, Erie Co, PA
Died: Nov 24, 1997
Loc: Saegertown, Crawford Co. PA
Bur: Millers Station Cemetery,
Rockdale Twp. Crawford Co. PA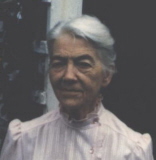 Father: Robert Guy Chapin
Mother: May Belle (Mable) Flaugh
Obituary:
D. Meredith Steinhoff, 92
Native of Rockdale Township
Cambridge Springs, - D. Merdeith Steinhoff, 92, formerly of Cambridge Springs, died Monday, Nov. 24, 1997, at Crawford County Care Center in Saegertown, after a long illness. She was born Feb. 5, 1905 in Mackey Hill, Rockdale Township, Crawford County, daughter of the late Guy and Mabel Flaugh Chapin. Mrs. Steinhoff, who was a homemaker, was a founding member of the Christian and Missionary Alliance Church of Cambridge Springs, where she was a former Sunday school teacher and missionary treasurer. She and her late husband were farmers for most of their lives. Mrs Steinhoff had been a resident of the Crawford County Care Center since 1990. She was proceeded in death by her husband, Thomas Steinhoff on March 15, 1881; they were married Feb. 16, 1922. Also preceding her in death were two brothers, Edson and Hubert Chapin; and a grandson Daniel Right. Survivors include a Daughter, Mrs. Wesley (Mary Jane) Thomas of Cambridge Springs, a son R. Lynn Steinhoff of Fairfax, VA; a brother Lawrence Chapin of Edinboro; four grandchildren and six great-grandchildren. Friends may call at Van Matre Funeral Home, 335 Venango Ave., Cambridge Springs, Wednesday from 1 p.m. until the time of a service there at 2 p.m. The Rev. Peter DeGeraldo, a retired Methodist minister will officiate.
Burial will be at Millers Station Cemetery.